In Heart of the Stone it is necessary to put units next to the glowing columns to make the bridge appear. That means four guys get left behind just to keep the bridge solid so everybody else can make it across.
Well, we've done our guys wrong. It is sad but true. How many Berserks? How many Spider bitten Dwarves and Archers? How many healed-out JMen? Now, thanks to The Seeker, we can avoid those needless losses evermore!
True, he discovered this gem while trying to kill his own guys, but we shouldn't hold it against him:
I found this because I really wanted to see what would happen if I plunged my guys into lava! ; P
Old hands at this level will remember that as soon as you get a unit on that bridge, you lose control of him and he will waltz right across. Turns out there is a thin zone where a unit can stand on the bridge without 'going blue.'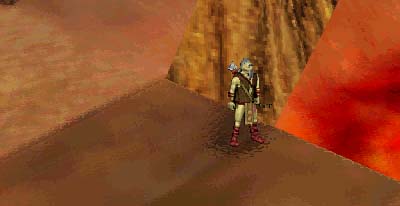 And as long as one unit is on the bridge, it won't evaporate on you. Your boys out in the field can bring it home and the bridge stays put. Nobody gets left behind!
But setting it up can be tricky. When I was trying the one-guy-at-a-time approach I ended up with a Dwarf I couldn't control standing on the bridge. Even though all the other units had exited, the game refused to end! The Seeker suggests:
Have all your guys (exc. the 4 pillar guys) do a short line formation diagonally on the bridge, straddling the seam where the bridge starts, then make them stay put. This will guarantee at least one guy is standing on the bridge proper. It can be tricky to do it other ways, since they often want to just walk right out the exit once they get on the bridge, but if you try my trick at least one will be near the very beginning of the bridge, or sometimes they get moonwalk stuck on the seam. Then bring your 4 pillar men in & walk everyone off.
'Moonwalk stuck,' indeed! I think the Seeker has also coined a new Myth slang term. Now we need one for that thing a Berserk does when he endlessly prances around the pack trying to get to his inaccessible spot.
Here is a 6 law Mythmaster film by Devin "Soulblader" Pierce [mac | win] that shows how to save everyone.
Also interesting to note that the units you leave behind on the pillars don't officially 'die', as far as the game is concerned. I usually name all of them "Martyr" followed by a number (1 through 4), and sure enough, they're right there on The Smiths Of Muirthemne, fighting right along side the friends whom they supposedly gave their lives for.