News Archive for January 2005
Friday January 28th
Project Magma have release another round of public betas for what will (probably) be the final updates to Myth.
The Myth II 1.5.1 Public Beta is the latest and most advanced version of Myth II. Some highlights include a new "autohost" feature enabling a computer to host a list of games without a person being present, OpenGL rendering with the Windows operating system, and numerous bug fixes.

The Myth: TFL 1.5 Public Beta features OpenGL rendering for OSX, and 1.3 film playback, among other changes.
Magma are also holding a contest for the best films and screenshots to showcase all that rocks about Myth. Get cracking!
The makers of the Myth fan film, Avon's Hope have asked us to pull their film from our servers. Sad though this is, they have given their reasons and we can only comply with the wishes of the creators.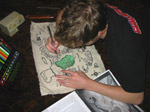 I watched the huge undertaking that was Avon's Hope grow through production to become the most ambitious Myth project to date.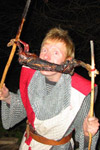 The creative minds behind its conception deserve huge amounts of credit for bringing the world of Myth to life in such a novel and entertaining way.
We appreciate all the work you guys put into the making of this film and we're sorry to see it drift into the ether like this. Good luck with all your future endeavours.